with James Harbeck and Aina Arro
Aina and I decided to go to Iceland on our holiday. Actually, we just stopped there for three days and four nights on our way to England, where we spent ten days. (But we spent as much money in Iceland as we did in England. Iceland is one of the few places that can make England look cheap.) Why did we go to Iceland? Well, you know, summer is just so darned hot everywhere else. And, well, Iceland sounded interesting. Why not? Plus it has a language that I could spend a bit of time getting to know in advance.
You'll notice a few characters in Icelandic that aren't in English. They are þ, pronounced like "th" in "thick" and "thin," ð, pronounced like "th" in "this" and "that", and æ, pronounced like "eye" or the "y" in "my." Actually, all three used to exist in English, centuries ago. There are a number of ways in which Icelandic pronunciation differs from English... and the curious can look them up on other websites rather easily. We're here to look at pictures.
Reykjavík
Aina at Reykjavík's waterfront, with the Viking Monument and the bay (Faxaflói) in the background.
Tjörnin, "The pond," in the middle of Reykjavík, looking generally eastward.
Same place, looking generally northward (and thus in the same direction as the photo of the bay, above). The building back left is the city hall.
Laugavegur, the main shopping street. Not an especially glorious picture, but it's here for the curious.
The outside of the Icelandic Phallological Museum. I have a photo of the inside that I'll spare you. It's basically two rooms full of preserved male organs of assorted Icelandic species.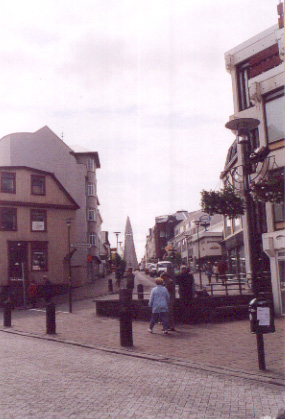 A view up towards Hallgrímskirkja, the main big church in Reykjavík.
The inside of Hallgrímskirkja. Aina and I went to the service there on Sunday. It's Lutheran, and, of course, in Icelandic. Which is all well and good, since they have a printed prayer book, except their prayer book doesn't bother including the Creed and the Lord's Prayer in Icelandic, presumably because, of course, everyone knows them. In Icelandic. Oh well.
Austurstræti, which means "East Street," in the oldest part of downtown Reykjavík (a minute or two north of Tjörnin by foot and just a couple of blocks from Laugavegur), around 10 or so one evening.