Dancing mountains celebrate reasons for Thanksgiving
COFFEE WITH WARREN, with Warren Harbeck
Cochrane Eagle, October 7, 2009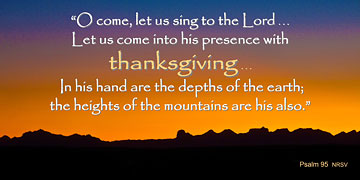 Sunset mountain skyline northwest of Cochrane on Sept. 27 danced with gratitude. PhotoArt by Warren Harbeck
"From love the mountain springs up and starts to dance," wrote Jelaluddin Rumi. A recent experience of mine affirmed the words of this 13th century Sufi mystic and helped prepare me for Thanksgiving.
Last week's column addressed the relationship of trust and peace for community-building here in Cochrane, where we're sorting through core values that define our foothills town. I wrote at some length about the Hebrew word shalom, so important to an understanding of peace, prosperity and community well-being in the Old Testament.
Among the many responses I received was a particularly perceptive note from Dr. David Lertzman, Assistant Professor of Environmental Management and Sustainable Development at the University of Calgary.
David and I usually address each other by the Stoney Nakoda words for "brother" because of our shared respect for the ways and language of the First Nations folks at Morley. In fact, when we first met some years ago, he and I "adopted" each other as brothers and made a covenant: I was to help him become a better Jew; he was to help me become a better Christian. I'm not sure how we're doing, but one thing is sure: his insights into the Hebrew and Nakoda languages shed valuable light on the nature of community.
"Is it not interesting," he asked, "that the Nakoda word for 'town' – oyade (pronounced o-YAH-day) – also means 'peace' and 'friend?'"
This idea of towns as places where friends dwell together in peace and harmony brings me back to why Rumi's mountain might be dancing.
I was returning recently from a weekend mini-retreat up north with a deeply bonded group of friends. As we approached Cochrane on Highway 22, the sun had just set and the western horizon was aglow in warm hues, silhouetting dancing mountains and filling me and the other passengers with awe.
In that instant I caught a glimpse into Rumi's heart. The sacred texts declare that God is love, and love is the essence of peace and friendship. The mountains were dancing because those of us on the retreat were discovering what real community is all about.
Rumi's imagery is paralleled by one of my favourite passages in the Hebrew Bible. In Psalm 95 the mountains pause from their dancing to stand as witnesses to our own musical response to God's loving kindness.
In the spirit of that psalm and of Rumi's words, then, let us sing and dance this Thanksgiving for the joy of peace, love and friendship that can embrace all of us in a group hug of true community.
© 2009 Warren Harbeck
JoinMe@coffeewithwarren.com