Hallelujahs and Christmas card for my bearded buddies
COFFEE WITH WARREN, with Warren Harbeck
Cochrane Eagle, December 8, 2010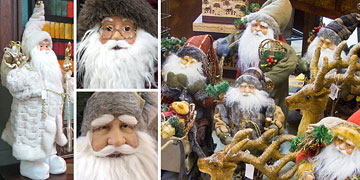 White-bearded Santas at Cochrane's Anything Grows Home store speak of souls touching each other, not unlike the experience many are having when viewing the food court flash mob video "Hallelujah." Photos by Warren Harbeck
Click here to view a larger version of the collage.
I've a secret I'm going to let you in on about my bearded buddies in the photos running with this week's column.
But first, here are some of the responses I received to last week's column on the YouTube food court flash mob "Hallelujah Chorus" video.
"Delightful, beautiful, uplifting," wrote Jeanne Hammer, of Calgary. "In the crazy world we live in today, how refreshing to see the look on people's faces when for a few moments music can work its wonderful magic in bringing it all together."
Peace was the experience of several readers, including Paul and Angela Morel, of Cochrane:
"May such flash-mobbing continue throughout the year all over the world," they wrote. "Unlike suicide bombers who kill for reasons that make no sense, the flash mobs delight and awaken our humanity. Stopping such killing in Iraq or Pakistan may only happen when those who instigate their deadly plans suddenly realize nobody's listening to them any more, because all the attention is on this peaceful, joyful flash-mobbing."
Along this line, Gordon Lackey, also of Cochrane, drew a parallel to another "Hallelujah." He referred me to a YouTube video featuring Leonard Cohen's version, performed by k.d. lang at the Vancouver 2010 Winter Olympics.
Cohen's words are humble yet hope-filled: In a conflicted world of holiness and brokenness, "I'll stand before the Lord of Song / With nothing on my lips but Hallelujah. / Hallelujah. / Hallelujah. . . ."
Another YouTube video Gordon directed me to uses Cohen's hit, sung by Alexandra Burke, as accompaniment to a street scene of young people offering free hugs to passers-by. It concludes with a quote from Oscar Wilde. The Irish poet's lines embrace the heartfelt responses of many, not only to the hugs, but to both Hallelujahs, as well: "For one moment our lives met / our souls touched."
Which brings me back to the secret concerning my bearded buddies in this week's photos. (We do have something in common, you may have noticed!)
This is the third year I've sent a Christmas card to the skillfully crafted Santas that captivate shoppers at Anything Grows Home store, 212 1st Street West, Cochrane. I've made the cards using photos I've taken on my frequent visits with them.
It's all about beard-bonding, I guess, and like the food court's and k.d. lang's "Hallelujah" moments, it speaks of souls touching each other wherever and whenever they gather in the course of life's amazing journey.
© 2010 Warren Harbeck
JoinMe@coffeewithwarren.com