Car rises from ashes of time as word of beauty, hope
COFFEE WITH WARREN, with Warren Harbeck
Cochrane Eagle, February 29, 2012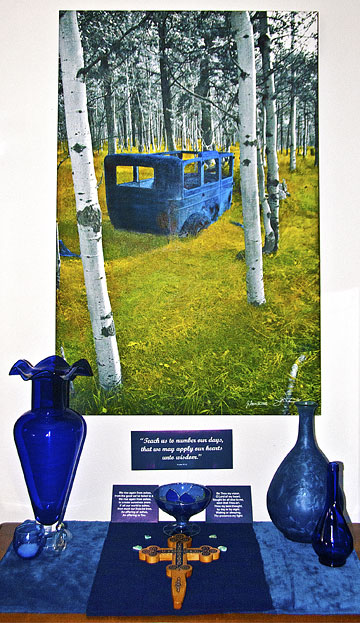 Black-and-white photo of car body by Jack Tennant, colour-embellished by Janet Armstrong, hangs in columnist's office as reminder of life's brevity. Photo by Warren Harbeck
The moment we saw it, my wife and I knew it belonged in our home office as a vivid reminder of the shortness of life and the importance of living each day wisely.
We were visiting artist Janet Armstrong's Just Imajan Studio/Gallery at the corner of Third Ave. and First St. West in Cochrane.
Janet's evocative works on local themes include a fine series she has created in cooperation with photographer Jack Tennant. (Jack is also the publisher of the Cochrane Eagle, host newspaper for my weekly columns.)
Her contribution has been to embellish selective elements in Jack's otherwise-black-and-white prints with splashes of colour.
Among their dozen or so pieces on display is one of a magpie perched on a fence post near a stream flowing through woods on a snowy day. Only the fence posts and magpie reveal Jan's embellishments.
Another joint effort is that of a farmer's field separated from the billowy clouds above by a row of hay stooks. Janet has selected just the hay for colour-embellishment – with Alberta foothills golden hues.
It was a 39 × 25.5-inch image of an old car body resting among a stand of poplars that really held our attention, however.
Jack had taken the photo just north of Cochrane. Janet had chosen the car body and grass for adding her splashes of blue and green.
It was the blue of the car that initially attracted my wife and me. It was the same deep blue as the blue of the glass bottles, vases and other decorative features in our office.
We bought the photo-painting and soon appreciated the other, more important, justification for hanging it where I write these columns: the hope-filled message of the decrepit, once-vital car itself.
The piece was a potent reminder that we mortals, too, have only so many days in which to serve our earthly purpose. As the old Stoney Nakoda proverb says, Nîbi ne dohâ ptenâ wanch – "Life is very short."
Beneath the image I mounted the words from Psalm 90:12: "Teach us to number our days, that we may apply our hearts unto wisdom."
Christians have just entered the pre-Easter season of Lent, a time of reflection long associated with ashes. So I also placed some ashes in a blue crystal bowl below the artwork, along with a verse from Tom Conry's popular Lenten hymn:
We rise again from ashes, from the good we've failed to do.
We rise again from ashes, to create ourselves anew.
If all our world is ashes, then must our lives be true,
An offering of ashes, an offering to You.
Jack and Jan's artistry provided a Lenten blessing in its own special way: that old car was an offering of ashes that rose again, creating its life anew – yes, rising anew from discarded forgetfulness and leaving a legacy of truth, beauty and hope.
© 2012 Warren Harbeck
JoinMe@coffeewithwarren.com